It's Friday afternoon. You just can't write another line of code—but you're still stuck at the office…
A 40-hour workweek consumes a huge part of your life. Once you add in your commute, you might be spending 50+ hours per week on your job. And then of course there's crunch time, when your hours are even longer.
You don't want to sacrifice your life to your job. But somehow it seems like you spend your whole life glued to your work laptop, with very little control over your own time.
And even when work finally ends, in the evenings and on the weekend, there's the ongoing work of being an adult. You need to pay bills, run errands, do the laundry, deal with a leak in the roof, file taxes, make an appointment, answer emails, return those shoes that don't fit, buy a new mattress, and on and on and on.
You never have time to do any of the things you actually want to be doing.
Every weekend could be a 3-day weekend
Some programmers do have more time to do what they want. And that's because they have a 3-day weekend.
I asked some of them how they spend that extra day, and here's what they said:
Hiking in the mountains.
Spending time with their spouse or significant other.
Programming a small project of their own, just for fun.
Spending time with their children.
Reading more books.
Running a small side-business.
What would you do with your extra day if you had a 3-day weekend?
How do you get there? Negotiation
The most straightforward way to get that 3-day weekend is to negotiate—ideally with your current employer, or if not then with a new employer. Since 2013 I've worked between 28 and 35 hours per week, at 3 different startups, and I did it by negotiating.
And it's not just me. Mike, for example, is a programmer I know who has been working 4 days a week for more than 15 years, at 7 different companies, in every case by using negotiation.
So why is negotiation so helpful?
Most employers won't offer shorter workweeks by default—but by negotiating you can get them to make an exception for you. That's what Mike and I did, and many other programmers as well.
Negotiation also allows you to increase your pay, so you're making enough money even with a shorter workweek.
Want to get started right now?
But how do you negotiate?
But how exactly do you negotiate? You don't really know where to look or how to do it.
Should you talk to startups or established companies, small companies or big ones?
How do you go about the negotiation?
When in the process do you ask about working fewer hours?
How do you maximize your salary?
How do you ensure you still have benefits like health insurance?
If you knew exactly what to say and what to do—then you could negotiate that 3-day weekend. No more long workweeks!
How can you get there? By learning from others who have already done what you want to do, and by practicing negotiation on a smaller scale.
I've done it—and so can you
I used to be a terrible negotiator.
One time my manager told me I was underpaid given my experience and skills. I did nothing, I asked for nothing—and when the next review period came around, I once again did nothing. It never even occurred to me to ask for more, so I spent years being underpaid.
Eventually I realized I needed to do better. So I read books, and observed other people; I negotiated higher salaries, and negotiated consulting contracts.
And then one day I found myself negotiating a shorter workweek—and it worked!
And then I did it again at another job.
And then again, at a third job.
Instead of figuring all this out on your own, you can benefit from my research, my experience, and the experiences of many other people I've interviewed.
And to help you do that I've written a book: Negotiate a 3-Day Weekend.
"Inspired by your book, I negotiated an offer … to work 32 hours per week"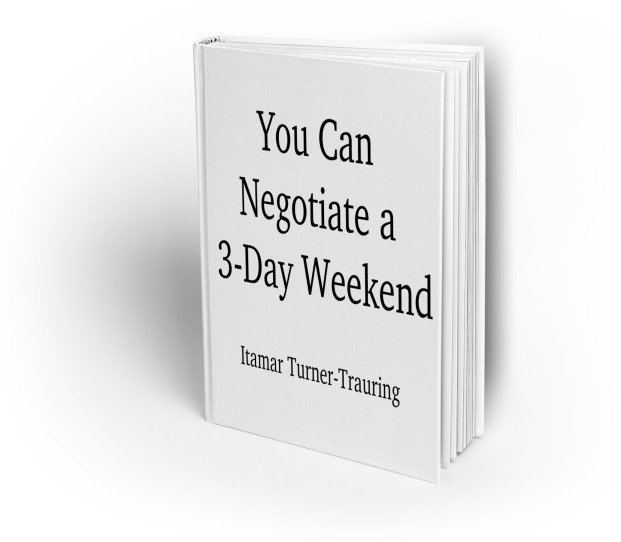 The book will teach you how to negotiate a programming job with a 3-day weekend. Based on my personal negotiating experience, real-world stories of other programmers who negotiated reduced hours, and extensive research, you'll learn:
How to build your negotiating skills incrementally, by practicing small-scale negotiation on the job.
The best place to start: at your current job.
How to combine your salary and workweek negotiations to maximize your take-home pay.
How to strengthen your negotiating position.
How to explain your value to your boss—or a new employer.
How to make sure companies don't just reject you out-of-hand.
And more!
Here's what a reader of an earlier iteration of the book has to say:
"I GOT IT!!! I GOT A 4 DAY WORK WEEK!!! I have to thank you. Without your blog and book I might have given up, thinking it wasn't possible." —Alex K
Ready to get started?
What you'll get
You'll get the book in PDF, as well as all future updates to the first edition (including at some point Mobi (Kindle), and ePub (other ebook readers) formats). More importantly, you'll get expert advice, detailed processes, training exercises, and real-world inspiration to help you negotiate for more free time: focused and actionable.
Here's the book's table of contents:
Introduction: An overview of the book.
The basics of negotiation: The basic principles of job negotiation, along with real-world stories demonstrating why these principles matter.
Building financial strength: Why more savings will make you a better negotiator.
Practicing negotiation on the job: Get better at negotiation before you reach the all-important final negotiation.
The dimensions of negotiation: Time, Money, Benefits: What do you want? What do you need? From money to health insurance, what you need to decide in advance.
The value of being an existing employee: The easiest place to negotiate shorter hours is at your current job. Plus, tips to strengthen your negotiating position.
Negotiating as an existing employee: What to say, what to do.
What makes you valuable? If you're going to negotiate at a new job, you need be a valuable worker; this chapter will help you figure out your strengths as a programmer.
Finding Jobs and Interviewing: Find the companies where negotiation is most likely to succeed. Then, make sure you interview the right way.
Negotiating a new job offer: The process you need to follow to negotiate at a new job, from the initial request to following up on the company's response.
Maximizing your income: Learn how to get more time and more money.
The book mostly focuses on a US perspective, but some of the programmers interviewed in the book work in Canada and Europe.
You can get started today!
This is a beta release of the book: still a few tweaks needed, but it's available now so you can get started as quickly as possible. You will also get all future updates to the first edition.
Here's what another reader of the earlier iteration of the book had to say:
"Inspired by your book I actually negotiated an offer from a new company to work 32 hours per week, my first part-time job ever… I'm so looking forward to those free Fridays!"
Ready to get started on your own?
About the author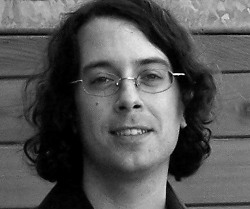 Hi! I'm Itamar. I've been writing software since 1995 or so. As an employee I've worked for companies small and big, ranging from 8-person startups to a year at Google as a product manager (my previous employer got acquired). And as a consultant I've written software for a similarly broad range of companies.
Since 2013 I've been working between 28 and 35 hours per week, at three different jobs. I wrote this book in the hopes of helping you and other programmers get a shorter workweek, just like I have.